Home > GCL TechTalk Series > 2014/10/24 Global Design Seminar: Special Lecture on Project Tango
GCL TechTalk Series
2014/10/24 Global Design Seminar: Special Lecture on Project Tango
Special Lecture on "Project Tango", to be held on Friday, October 24, (15:30-16:30) at Denki-kei Seminar RM#1, 3Fl., Faculty of Engineering Bldg 2, Hongo Campus.
Speaker: Nicolai Munk Petersen, Google Researcher
in charge of Advanced product development of Mobile technologies.
https://www.linkedin.com/in/nicolaimunkpetersen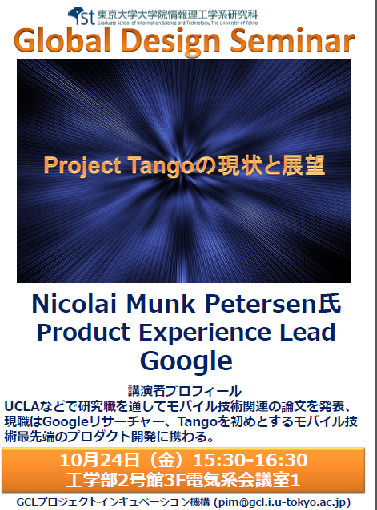 Fore more information, please check Japanese Website  here at http://www.gcl.i.u-tokyo.ac.jp/events/20141024_project-tango/ .
Thank you.
---