The presentation ceremony for the University of Tokyo President's Award was held at Koshiba Hall on Tuesday, March 20, 2018. Keigo Matsumoto, Department of Mechano-Informatics, M2, received President's Award (Category: Academic Achievement) from President Gonokami.
President's Award is given to excellent students who redound to the honor of the University of Tokyo by making their significant achievements in the category of academic, extracurricular, and social activities as a role model for other students.
Mr. Matsumoto has received the award for the following achievement.
Unlimited corridor: a virtual reality system that manipulates human spatial perception using visuo-haptic interaction
In the field of virtual reality (VR), there is a technique called "redirected walking" that makes it possible to experience walking in a vast virtual space using a physical (real) narrow space, by manipulating human spatial perception.
Mr. Matsumoto has proposed "visuo-haptic redirection" by using haptics in redirected walking for the first time. He has also developed the technology that enables unlimited walking in VR space by using the space of 1/30 of the existing method.
In addition, he has developed "Unlimited Corridor" based on his research results, and it has been awarded many prizes including "The Japan Media Arts Festival" organized by The Agency of Cultural Affairs. It has been recognized as a media art piece that opens a new era in the field of art as well as society, in general. His work has also drawn attention worldwide in the academic field including publications in international journals and presentations in international academic societies, etc.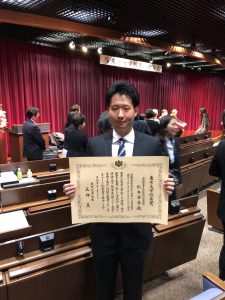 (Related URL)
The AY 2018 University of Tokyo President's Awards" for students (Evaluation Results・ Presentation Ceremony)