Home > GCL TechTalk Series > 2015/06/12 Global Design Symposium: Towards Social Redesign in 2020 ~Leading the way in social innovation using sensor-based Next generation personal authentication technology~
GCL TechTalk Series
2015/06/12 Global Design Symposium: Towards Social Redesign in 2020 ~Leading the way in social innovation using sensor-based Next generation personal authentication technology~
The symposium, organized by Social ICT Research Center of The UTokyo jointly with GCL program, will be held on Friday, June 12, (13:30-17:30) at Fukutake Learning Theater, Fukutake Hall, Hongo Campus. This symposium will be conducted in Japanese, please note.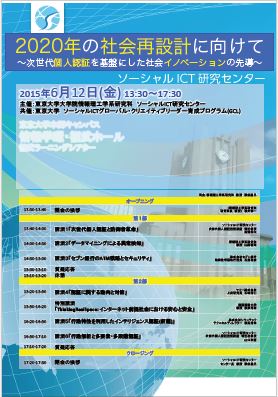 For further information, e.g. Program, Registration., etc., please see the following UTokyo web sites;
GCL Program: http://www.gcl.i.u-tokyo.ac.jp/events/20150612-global-design-symposium/
Social ICT Research Center : http://www.sict.i.u-tokyo.ac.jp/news/sympo20150612
Thank you.
---