Home > GCL TechTalk Series > 2015/12/16 (R2P) Global Design Leading Researcher Café: 2015 GCL Annual Poster Session
GCL TechTalk Series
2015/12/16 (R2P) Global Design Leading Researcher Café: 2015 GCL Annual Poster Session
The event will be held as R2P-Global Design Leading Researcher Café on Wednesday, December 16, 2015 (14:55-16:40) at the Ele-Conference Room #3 and #1ABC, 3rd Fl., Faculty of Engineering Bldg. #2, Hongo Campus.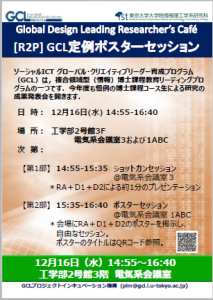 The event will consist of two parts as follows;

"The Part I – Shotgun session" will be conducted from 14:55 to 15:35 at the Ele-Conference Room #3. The maximum time allotted to each RA/D1/D2 presenter is about 1 minute.
"The Part II – Poster session" will be followed from 15:35 to 16:40 at the Ele-Conference Room #1ABC. Text in Poster should be written in English; Posters will be displayed during the session; and will be available for discussion among participants.
For more information on "Participation Procedures", "Tentative presentation titles" etc., please check the Japanese page here at
http://www.gcl.i.u-tokyo.ac.jp/events/20151216-r2p-global-design-leading-researcher-cafe/.
Thank you.
---