Home > News & Topics > 2017/04/04 FY2017 – 3rd GCL Briefing Session for Doctor course students
News & Topics
2017/04/04 FY2017 – 3rd GCL Briefing Session for Doctor course students
The briefing session will be held on Tuesday, April 4, 2017 (start at 16:30) at the Ele-Conference Room #3, 3rd Fl., Faculty of Engineering Bldg. #2, Hongo Campus.
The format of the briefing session will comprise: An overview of Student Recruitment; How to apply; and Q&A session, with a chance to raise queries and discuss with prospective students.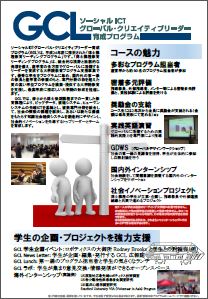 ●Announcement-PDF
Please see the detailed information on application here at http://www.gcl.i.u-tokyo.ac.jp/en/courses/application/ .
For more information, please check the Japanese page here at  http://www.gcl.i.u-tokyo.ac.jp/news/20170404-d1-3/.
Thank you.
---