Home > News & Topics > 2017/4/11 Briefing Session : Study Abroad Guide and Advice
News & Topics
2017/4/11 Briefing Session : Study Abroad Guide and Advice
The briefing session : Study Abroad Guide and Advice will be held on Tuesday, April 11 (16:00~18:35) at Lecture Room 15, Engineering bldg. #1, Hongo Campus. Please note that this session will be in Japanese only; If you need any further assistance, e.g. English interpretation, please let us know. We'll be happy to help you.
Meanwhile, Individuals (e.g. IST students, Non-GCL students, faculty and staff) interested in participating are most welcome to join.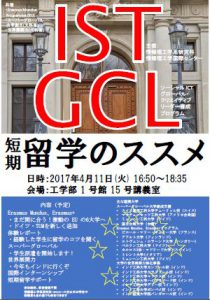 Click here to download a pdf version of the Poster.
—————————
For more information, please click the link below.
http://www.gcl.i.u-tokyo.ac.jp/news/20170411-informaiton/
Thank you.
---