Home > News & Topics > 2018/2/16 Briefing Session : Study Abroad Guide and Advice
News & Topics
2018/2/16 Briefing Session : Study Abroad Guide and Advice
The briefing session : Study Abroad Guide and Advice will be held on Friday, February 16 (16:00~17:30) at Lecture Room 211,1st Floor, Faculty of Engineering Bldg. #2, Hongo Campus. Please note that there is no participation fee; no advance registration required.
Meanwhile, Individuals (e.g. IST students, Non-GCL students, faculty and staff) interested in participating are most welcome to join.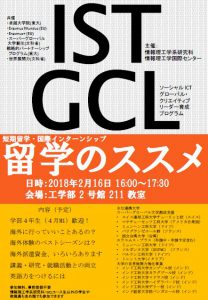 Click here to download a pdf version of the Poster.
For more information, please click the link below.
https://www.gcl.i.u-tokyo.ac.jp/news/20180216-information/
Thank you.
---