Home > GCL TechTalk Series > 2016/09/02 Global Design Symposium:The 6th Network Virtualization Symposium – Toward Future 5G/IoT infrastructure with network softwarization –
GCL TechTalk Series
2016/09/02 Global Design Symposium:The 6th Network Virtualization Symposium – Toward Future 5G/IoT infrastructure with network softwarization –
The Symposium, co-hosted by the 6th Network Virtualization Symposium Steering Committee, IEICE Technical committee on Network Virtualization (NVW), The University of Tokyo Interfaculty Initiative in Information Studies, Graduate School of Interdisciplinary Information Studies, Graduate program for social ICT Global Creative Leaders, the university of Tokyo (GCL) , Network Virtualization Working Group, JSPS 163rd Committee on Internet Technology (ITRC), National Institute of Information and Communications Technology (NICT), will be held on Friday, September 2, 2016 at Room #213(Tentative Venue), Faculty of Engineering Bldg. #2 , Hongo Campus, the UTokyo.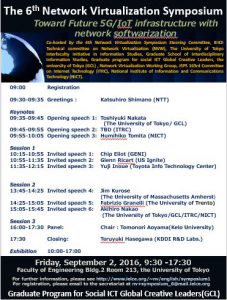 Please note that this symposium will be in English only; Japanese interpretation will not be provided. Advance online registration (by 26 August) is required.
In addition, they start receiving applications for a booth exhibition(Panel/Demo) during this symposium.
For more information on "Advanced online registration", "Procedures for application exhibition", "Detailed program" and "the GCL TechTalk attendance report submission", etc., please see the Japanese websites as follows;
https://www.gcl.i.u-tokyo.ac.jp/events/20160902-global-design-symposium/
http://www.ieice.org/~nv/symposium/
Thank you.
---