Home > GCL TechTalk Series > 2018/06/25 Global Design Symposium:Symposium on Next Generation Personal Authentication Technology
GCL TechTalk Series
2018/06/25 Global Design Symposium:Symposium on Next Generation Personal Authentication Technology
The symposium, organized by the Social ICT Research Center, IST, the UTokyo and co-organized by GCL, will be held on Monday, June 25, 2018 (13:30~18:00) at Koshiba Hall, Hongo Campus.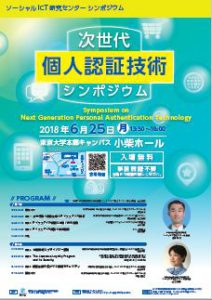 Click here
Meanwhile, Presentation 1,2,3,4 and 6 are in Japanese, and 5 is in English, please note.
For more information on the pre-registration both presence or absence, and the GCL TechTalk attendance report submission, etc., please see the Japanese website at https://www.gcl.i.u-tokyo.ac.jp/events/20180625-global-design-symposium/.
Thank you.
---